Once students have mastered the use of these virtual algebra tiles, follow-up activities like those suggested here can help them generalize this method. Be careful as you move from one of these models to the next; moving too quickly can impede students's ability to generalize and to connect one model with the next.
Draw Your Own Tiles: Solve similar problems by drawing your own algebra tiles on paper, like this: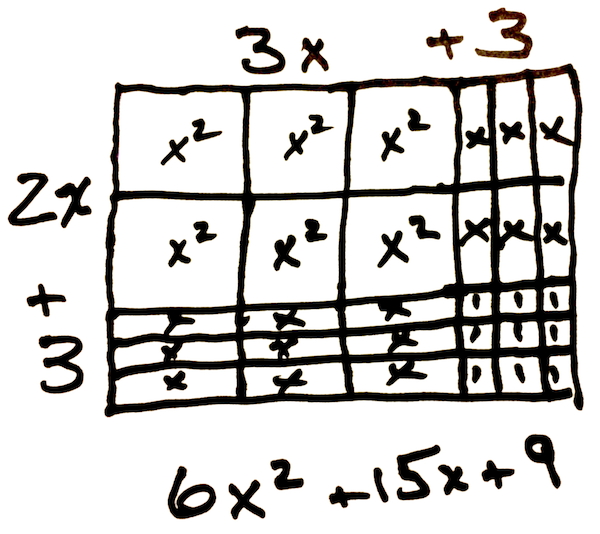 When you need to draw negative tiles, you can use a highlighter to identify all the negative tiles.
Just Draw the Boxes: As you get comfortable with the draw-your-own-tiles method, you can save time by making a drawing like this: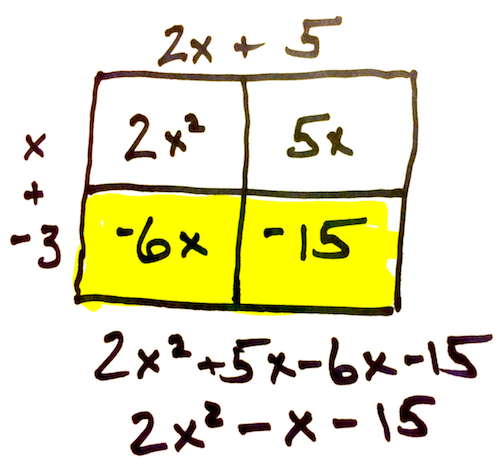 In this model the four boxes represent the four regions of algebra tiles in the sketches above. Notice that the boxes that contain negative tiles have been marked using a highlighter.
Using two highlighting colors makes it easy to distinguish boxes that have been "doubly subtracted" and need to be added back into the sum.
Multiply Higher-Order Polynomials: One of the biggest advantages of this approach over the FOIL method is that it's easily extended to multiplying any two polynomials.